Artist Jeremy Fish owns a Jonathan Adler lamp that appears to be made entirely out of white, ceramic boobs.
"That was a birthday gift from a friend during my single-dude days," he says.
It's the first thing I notice when I enter the massive studio Fish shares with his wife, Jayde, in their North Beach apartment, which lies at the end of a short winding staircase from the street entrance.
Jeremy's salt-and-pepper beard is approaching ZZ Top status, and he's wearing a custom-embroidered, brown monochrome Ben Davis jumpsuit.  The lighting is dim like the opening sequence of Masterpiece Theatre, and there's stuff everywhere, but not in a messy way. Everything seems to have its place, like the organized chaos of a professor's study.
One wall is home to a grid of paintings that depict hybrids of animals and automobiles. It's a body of work he's preparing for a show called "Spirit Animals" this summer at Jonathan LeVine Projects in Jersey City, N.J. I notice originals by California legends like Mike Giant and Todd Francis — who created the eagle logo for Antihero Skateboards — casually hung near workspaces about 15 feet apart from one another.
The whole place teems with art, as well it should: I'm standing in the shared studio of one of the most prolific artistic couples living within the city limits. The Fishes are still in love with San Francisco, reaffirming their vows to the municipality with each piece they create. Jeremy might be best-known for the large, pink bunny statue that used to greet those who entered the eastern edge of Lower Haight, and Jayde's intricate illustrations have been featured in galleries across the city.
But the past two years have been a watershed period for each of them. In summer 2015, Jeremy was selected to be the San Francisco Arts Commission Galleries Artist-in-Residence at City Hall — the first residency of its kind. He was awarded an office for roughly 100 days and tasked with producing 100 drawings to commemorate City Hall's 100th anniversary. When the show opened, Mayor Ed Lee proclaimed Nov. 4 as "Jeremy Fish Day" in San Francisco.
And in December 2016, Jayde suddenly entered the world of international fashion when Gucci picked up a series of drawings from her first solo show, "In Dreams," which creative director Alessandro Michele will use in the fashion house's Spring/Summer 2017 line.
Jayde greets me with a friendly hug. While she's known for her fashion sense — she often dons custom pieces by Al's Attire in North Beach, or combinations of vintage and high-end brands — her around-the-house garb is notably less off-the-wall than her husband's, whose crisp, baby-shit-brown jumpsuit is on the conservative side for a guy often seen around town wearing matching tops and bottoms plastered with photorealistic images of animals. Jayde's cat, Mrs. Brown, clocks me from atop a space heater with a faux-vintage facade that keeps the perfect temperature for the wet, chilly weather.
Both Jeremy and Jayde have achieved celebrity status within the fringes of the established art community for some time, and Jeremy has become a cult figure in the skating industry for his tripped-out line work, often depicting tiny, somewhat morbid, pink bunnies. The image originated from the calling card of a skateboarding crew he created in the '90s: The Silly Pink Bunnies.
Jeremy has also become the unofficial Mayor of North Beach, and it's hard to walk 10 feet in San Francisco's Little Italy without coming across his work. Much can be found at restaurants such as Tony's Pizza Napoletana, Golden Boy Pizza, Naked Lunch, Don Pisto's, and Baonecci — all of which have bartered him free food for life. He also has a series of murals around North Beach that celebrate famous San Francisco personalities like Janis Joplin, Jefferson Airplane guitarist Paul Kantner, and famed stripper Carol Doda. Jeremy Fish is in many ways a creative steward of San Francisco's rich history, something he's spent a great deal of time studying.
"North Beach is the most important neighborhood in San Francisco, culturally speaking," Jeremy says. "Francis Ford Coppola, Larry Ferlinghetti, Kerouac, Ginsberg, Frida, and Diego are all connected to North Beach. Also, as we are both Italian as fuck, Jayde and I are trying to maintain the creative traditions and rebuild the cultural legacy of our neighborhood."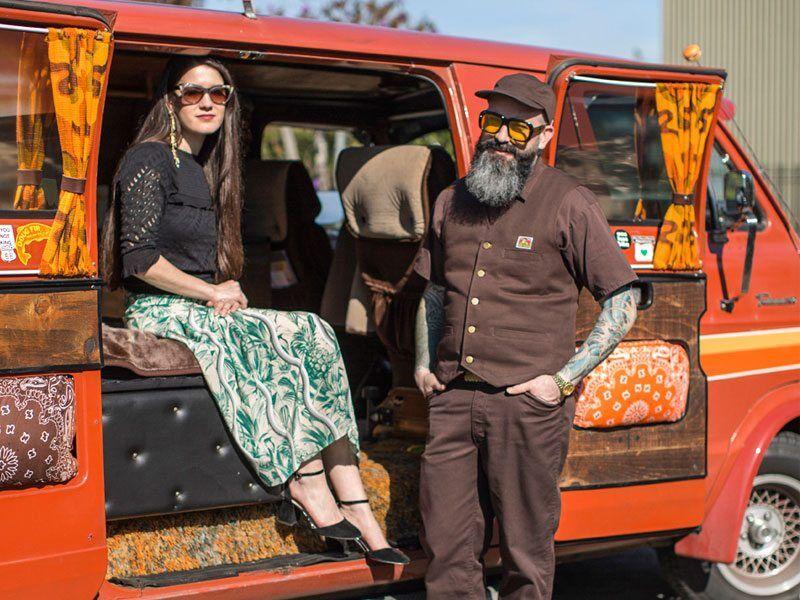 Jeremy and Jayde Fish are storytellers. Each has their own unique narrative behind how they've seeped so deeply into the city's creative groundwater. Jeremy's begins in 1994, when he first came to study at the San Francisco Art Institute. After growing up skateboarding in Saratoga Springs, N. Y., he made his pilgrimage to what was then the mecca of skating culture.
"I wasn't skilled or competitive enough to try and pursue it professionally, but it was something I wanted to contribute to — or at least be close to, at that age," he says.
He landed his dream job in 1997, working as assistant manager for Printime, the skateboard industry screenprint shop owned by Fausto Vitello, who published Thrasher and Slap, and eventually Juxtapoz — and who also owned the now-defunct Think Skateboards.
"I had a background in screenprinting, and had hoped to either work in graphics or printing — or both, which is exactly what happened," Jeremy explains. "I couldn't have been luckier. It wasn't necessarily just that I was qualified — it was a timing thing. I just got super-lucky."
"I had no graphic-design background at all, and still don't," he continues. "My entire graphic-design skill set came from working under illustrators and designers in the skateboard industry that did — like Todd Francis and guys like that. I considered that to be grad school. It was a real learning experience."
Fish went on to become the art director at Think and a contributor at Juxtapoz, and he published a monthly, two-page illustration in Slap. He was still working full-time at Think in the early 2000s when he began edging his way into the burgeoning powerhouse that was Upper Playground, as well as Fifty24SF, the clothing retailer and contemporary art gallery in the Lower Haight.
"I just kind of wandered in there one day," he says. "The dudes that were in there already knew who I was from my spread in Slap magazine, and they asked me to make some T-shirts. I think really the reason why I got so involved with them was because right around the time I started making shirts for them, they also opened a gallery."
"This may sound funny," he adds, "saying this years later, but it was much more an art opportunity than just a T-shirt gig. I just had a feeling that it was a good group of dudes to invest in."
Other than The Luggage Store or Fecal Face Dot Gallery, there weren't many outlets at the time for showing work like his. Upper Playground was arguably the only game in town, since it was already focused on showing work by up-and-coming Bay Area artists like Sam Flores, MARS-1, and David Choe.
"I could tell that if my art scene was ever to become a scene, it would be with those dudes," Jeremy says.
Matt Revelli, who founded Upper Playground in the late '90s, says Jeremy might hold the record for having shown the most times in the gallery since it opened.
"He kind of just snuck his way in multiple times and before I knew it, he had embedded himself in what we were doing with Upper Playground, while using the gallery as a launch pad for the fine art he wanted to do," he says.
"He was essentially a mirror to what I was doing without trying," Revelli adds, referring to the sort of brand he was developing with Upper Playground. "He wanted to communicate with the skate community using T-shirts and products to speak to massive amounts of people. But at the same time, he was developing a fine art following, which was essentially symmetrical to what we were doing."
Revelli goes on about Jeremy's commitment to mastering the art of functional products, and his polished and academic approach to making art, but he landed on a familiar sentiment: "Jeremy has had, and continues to have, a genuine love affair with the city of San Francisco," Revelli says. "There are a lot of purists who try to get down on tech and change. … But he continues to find ways to fall in love with San Francisco."
To this day, Jeremy's presence is still deeply felt around Upper Playground, and while he went on to design countless other products (including shoes, watches, and even bathmats) and show his art in galleries around the world, it's clear that his origins in the fine-art world began at Revelli's flagship complex on Fillmore and Haight.
Jade's San Francisco story began much earlier than her husband's, although Jeremy, 43, is about 10 years her senior. She grew up in Stockton, raised by a mother who used to perform in plays around San Francisco when Jayde was a little girl. Once, when she was 8 years old, she lived in the city for four months while her mom performed at The Alcazar Theatre.
"They had a really great costume closet at that theater, and I would just go nuts back there during my mom's shows, trying on all the clothes and putting on makeup," she recalls.
Jayde moved to San Francisco in 2005 to study graphic design at the Academy of Art, after spending a few years studying biology in Hawaii. Outside of school, she worked a multitude of graphic-design jobs, producing several Facebook Messenger stickers, like "Prickly Pear Cactus," the "Facebook Fox," and "First Mate."
While Jeremy cut his teeth in the world of fine art at Fifty24SF, Jayde's springboard was Spoke Art in the Tenderloin.
"Jayde first started working with Spoke Art back in 2013, when she was still Jayde Cardinalli," says Spoke Art owner Ken Harman. "We had seen her work online, fallen in love, and soon after, invited her to participate in an art show we were planning with internet cat celebrity Lil Bub."
For that show, Jayde created two pieces in tribute to the famous feline, who has more than two million likes on Facebook: "Space Bub" and "Surf Bub." Later, she began working on Spoke Art's annual Moleskine Project show, as well as pop-culture exhibitions such as the Wes Anderson Art Show, and an homage to Stanley Kubrick.
"One thing that I love about Jayde's work is that while there's a distinctive aesthetic commonality behind everything she does, you still never know what to expect from her," Harman says. "The S.F. art scene is so lucky to have Jayde, partially because she's found a way to enrich the art world in so many different ways. From tech to art shows to design to her own personal style, Jayde is really a renaissance woman."
While doing research for a project in which he wanted to showcase a history of San Francisco's most eccentric people, Jeremy stumbled upon a series of illustrations that Jayde had already done on the same subject for an article on hyperlocal blog The Bold Italic titled, "The Royal Family: A History of San Francisco's Eccentrics."
"So I sent her this email at like four in the morning, like kinda salty," Jeremy says, "because I thought I had this sick-ass idea, and I had spent 48 hours thinking I was really clever. Then I find out that not only had it been done, but that she killed it. So I was like, 'We should meet.' "
As if two artists meeting over a Bold Italic illustration wasn't "San Francisco" enough, Jayde suggested drinks at Zeitgeist.
"For her to not only have done something that I could relate to both conceptually and in terms of the way she drew it, and for her to want to meet up at my favorite bar — I sort of had a feeling that there was something magical afoot," Jeremy says.
That was in 2011, and Jeremy and Jade were married two years later. Appropriately, the service was held in Washington Square Park. Underground hip-hop legend Aesop Rock officiated, skate hero Tommy Guerrero played guitar, and Tony Gemignani hosted the reception at his restaurant, Capo's.
"It was a very North Beach wedding," Jeremy says.
The couple describes their experience living and working in the same space as positive, remarking that they push each other forward in their respective endeavors, assisting one another with their complementary skill sets. For Jeremy, there was a bit of an acclimation period, since he'd lived and worked by himself in his North Beach abode for nearly 10 years before Jayde moved in.
"My work has changed since I've had someone else here, just because you're in a different frame of mind," he says. "When she first moved in, if I was struggling for an idea, I was struggling even harder — because there was someone here to notice. Before, if I was sitting here not having a good idea and no one was here to see me except the pictures on the wall, it really didn't matter. That's still a little bit of a struggle for me, but the benefits are still much greater."
Jayde explains that, while the setup forces them to share the experiences of low points as well as high points, Jeremy's intense work ethic has ultimately helped her career.
"I think working with him has forced me to take more of a narrative approach," she says, adding that getting together with Jeremy encouraged her to "get her hands dirty again" after focusing so heavily on digital production.
At the end of 2015, feeling like she'd taken on too many tech-oriented graphic-design jobs, she set a goal to have her first solo show the following Christmas. She approached Upper Playground, and they gave her the opportunity to show in their gallery Fifty24SF in December 2016.
Jayde used pen and ink to create intricate, totemic tarot card designs whose storytelling elements speak to her husband's influence. However, while Jeremy remarked that his narrative work was less about telling a personal story and more about engaging the viewer to find their own meaning, Jayde's appeared more personal.
"For the tarot deck pieces, I just started pulling things out of my own life, what I was feeling, what I was going through, putting the characters around me into my work," she says.
She posted finished drawings on Instagram, hashtagging Gucci creative director Alessandro Michele simply because she was a fan of his design and direction, but thinking nothing would come of it.
But something did. Michele's team contacted her, saying her drawings were a perfect fit for a Gucci project. One thing led to another, and Gucci bought 17 of the finished pieces before the show was even up.
In September, both Jayde and Jeremy were invited to Gucci's runway show in Milan for the upcoming Spring/Summer 2017 line. The two were blown away as the models began parading out from the fog, and under chiaroscuro light, Jayde began seeing her designs prominently featured on their clothing.
"I was in heaven," she says. Suddenly, Jayde was featured in Vogue and other high-profile publications and, on top of that, she sold out her first solo show.
The line has just now started to come out in stores, and last month, Gucci partnered with Colossal Media in New York to create a 2,500-square-foot mural featuring her images across a five-story building on Lafayette and Prince streets.
"It's badass," Jeremy says.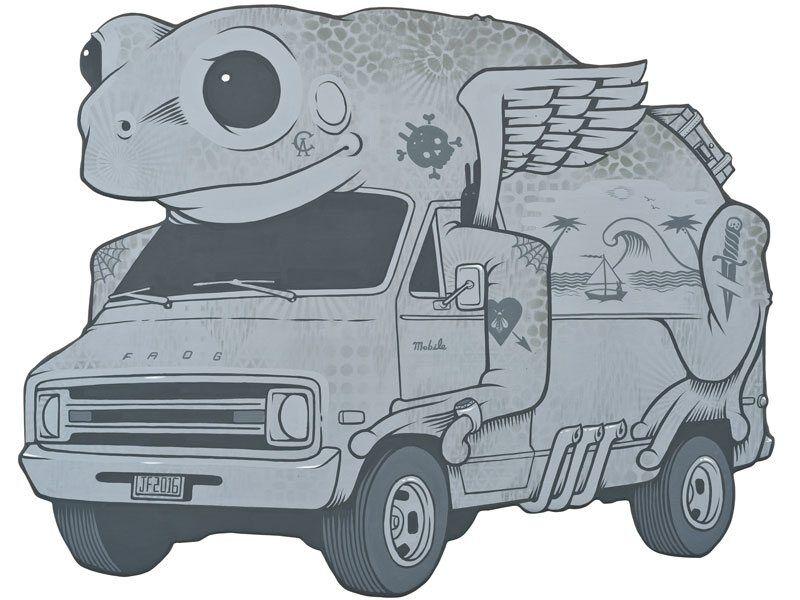 A great deal of Jeremy's work has been exported from San Francisco as well. Over the years, he's collaborated on products from brands such Nike, Adidas, Absolut Vodka — he designed a bottle — and he's also made album covers for Aesop Rock and a tour shirts for Paul McCartney and Snoop Dogg. He even created a sign that appeared in Tim Burton's 2014 film, Big Eyes — and appeared briefly with Jayde in the film, sitting in front of a cafe on Green Street.
Much of the Fishes' renown has come from their success as commercial artists, but Jeremy doesn't see that as a negative thing.
"I think it is a healthy balance of the two that keeps my work solid in both arenas," he says. "If you work with no restrictions for too long, the work can get lost. And if you work with too much restriction, the work can also get lost.
"I have discovered new ideas, styles, and techniques while working on commercial projects, that I was able to import back into my personal artwork and help it to grow. I am equally proud to do both commercial and fine art projects simultaneously," he adds.
Jeremy espouses a philosophy you might not expect to hear from an artist so deeply in love with a city that's become increasingly hostile toward the low-budget needs of emerging creatives.
"I don't resent technology like a lot of other artists," he says. "A lot of these young cats have kept me in business, buying art from me or commissioning me to do art for their companies. I'm not mad that I chose to make art in a city that invented something else while I was here.
"The internet and all of the things connected to it grew right next to me, and we've been running next to each other this whole time. I don't resent the internet, nor anyone who came here to work in it," he adds. "I don't resent the fact that San Francisco has priced out art and artists. Something happened here that's in-and-of-itself a different type of art that's affected human beings and our life on Earth. For better or for worse, I'm proud that it came from here."
Arguably, Jeremy's most remarkable accomplishment was the 2015 City Hall residency. In addition to his drawings, presented at a solo show that November, Jeremy's visual odes to city landmarks adorned multiple kiosks and bus stops. He acknowledged both the official and "unofficial" mayors of San Francisco, such as Herb Caen, Robin Williams, and John Coltrane.
"I'm not really political, so I thought I was an odd choice for the project," Jeremy remarks. "But the face of our city was changing dramatically, and I thought the one thing I could bring to the table was to draw things not just about City Hall, but other aspects of the city relating to our history. I thought a good way to embrace the project was to use it as a vehicle to teach people who had moved here things about our city that were important."
While Jeremy may have considered himself an unlikely choice, SFAC Galleries Director Meg Schiffler felt that he was precisely the man for the job.
"Jeremy was the first person I thought of," Shiffler says. "Throughout his career, he's created hundreds and hundreds of drawings about San Francisco, a city that he clearly loves. He's also quick to acknowledge what the City of San Francisco has given him, and how it's shaped who he is at this point in his life. He not only loves the city, he's devoted to it. I knew that he would represent the best of San Francisco: boundless creativity, singular style, and a passion for both the past and the future."
If you missed his residency, you'll have a second chance to get schooled when Jeremy's seventh published book, O Glorious City: A Love Letter To San Francisco (Chronicle Books) comes out in June. Inside, you'll find a foreword and interview with Jeremy by Schiffler, plus reproductions of all 100 drawings Jeremy completed during his time at City Hall.
This summer, Jeremy is up to his didactically civic-minded tricks once again, this time in the form of a residency at the former caretaker's quarters inside Coit Tower. Jeremy plans to occupy the space — currently the gift shop — and pump out a body of work affirming his love for the City by the Bay.
"When I do stuff these days, I kind of want it to be special," he says. "Not just special for the audience, but special for me. I think this one's cool, because I don't think many people even know that there's a caretaker's apartment in there." The details are still being ironed out, but he says he imagines he'll spend about a month there, most likely in August.
At the moment, Jayde balances a good deal of commercial work with a few upcoming group shows here and there, and she's looking forward to brainstorming and experimenting with new ideas. Further down the line, in summer 2018, the couple will put on their first show together at Spoke Art NYC.
Despite the deep-seated love they each feel for San Francisco, Jeremy and Jayde lament that it's been difficult for them to find a house in the city, and they both wonder whether or not they too will be forced to leave one day, as so many of their artist friends have.
"I want to make it clear that neither one of us are mad about the San Francisco we live in today. We're just trying to generously contribute to it, and hope that those contributions allow us to stay here. And if and when that's no longer the case, we'll go gladly and thank her for everything," Jeremy says. "I owe this place something, and I wish more people looked at the city that way, not the other way around. We aren't entitled to shit — unless you're smart enough to own a piece of it."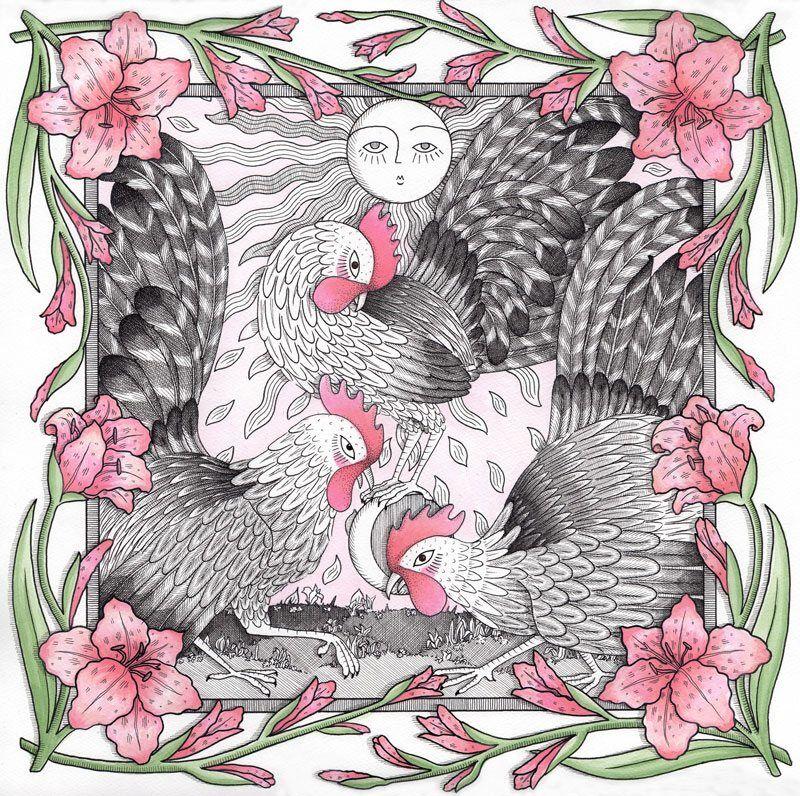 Regardless of whether or not leaving becomes a reality, Jeremy has a plan to leave his mark on his town for a long, long time.
After his large pink bunny statue on the corner of Laguna and Haight was torn down in 2013 to make way for the massive residential development Alchemy by Alta, some folks from the Lower Haight Merchants and Neighbors Association and a few others successfully raised $75,000 via Kickstarter to replace the statue with a larger bronze version. In fact, the replacement, which Jeremy made with Berkeley sculptor Brin Berliner, will stand about 11 feet tall and weigh nearly half a ton. Jeremy says he has a 75-year land grant from the city for the spot where it will sit at the forthcoming Haight Street Art Center, so barring a massive uprising in which rebels decide to topple the bunny, it should be there long after Jeremy leaves this world, much less the city.
"I'm proud that the city I chose to live in over 20 years ago is still progressing and isn't in a slump, and doesn't allow you to stay here and make shitty art and get by," Jeremy says. "I'm proud of San Francisco. And when our time comes and we have to move, I'll go quietly, proudly, and know that I tried to make a difference in a city that changed my life forever. It'd be the least I could do."
Stephen Jackson is a contributor at SF Weekly. Follow him on Twitter at @talktojackson