Trevor Paglen is sitting on a curb in Altman Siegel's parking lot, smoking and puffing away as he takes a break from installing his new exhibit at the gallery. The smoke rises and swirls into the air as Paglen takes another puff. And another. Wearing a dark hoodie and T-shirt under a leather jacket, and sporting a shaved head and small beard, Paglen could easily pass for a prototypical agitated artist. If you mix Jackson Pollock's edginess with Robert Capa's sense of adventure, Banksy's societal outrage, and Ai Weiwei's investigative instincts, you would have Trevor Paglen, whose art projects frequently reveal the hidden intricacies of government surveillance.
"I'm making invisibility visible," Paglen tells SF Weekly after leaving the curb and returning to Altman Siegel. 
His exhibit, "Impossible Objects," includes photographs, drawings, and sculpture of things that have flown in space or that Paglen has imagined will. One photo, Unknown Object near Corona Borealis, shows a white line against a dark, starry sky. Paglen, who has a Ph.D. in geography from UC Berkeley and an MFA from the Art Institute of Chicago, employs advanced research skills and photographic doggedness to track government satellites that orbit around Earth. Paglen has used similar techniques to photograph underwater internet cables that the National Security Agency uses to track people's conversations.
Paglen's focus on the skies has taken him into a fantastical new realm. This summer, he's scheduled to launch his own satellite, a giant, shimmering art piece called Orbital Reflector that will circle the Earth for about eight weeks. The $1.3-million project is an artistic antidote to the military and spy satellites that crowd the outer reaches of the world's skies. Guided by calculations that will be available on the project's website, Paglen's diamond-shaped reflector should be visible to people on the ground as it encircles the Earth every 90 minutes or so.
Those who can't wait until summer can drop by Altman Siegel to see prototypes of Orbital Reflector — including one Paglen built from Mylar, aluminum, solar panels, and tape, and which goes from the gallery's floor to the roof like a giant, restless animal. In space, the artwork will expand to the height of large IMAX screen, reflect sunlight down to Earth, and appear almost like a star. 
"This is a full-scale model of what the satellite will look like," says Paglen, who's working on his Orbital Reflector project with an aerospace firm and the Nevada Museum of Art. "In space, it will inflate and become this big reflective structure. It will be about 100 feet long. … It's a lot of money. But for a public piece of art, it's very modest."
It's also very risky.
"The rocket could blow up," Paglen admits. "A lot of things could go wrong."
The artist and his sponsors are calling Orbital Reflector "the first satellite to exist purely as an artistic gesture." At a Friday night public talk at Minnesota Street Project soon after speaking with SF Weekly, Paglen told a packed audience that Orbital Reflector and his other projects "can give us tiny glimpses into what a more just, equitable, and beautiful society might look like."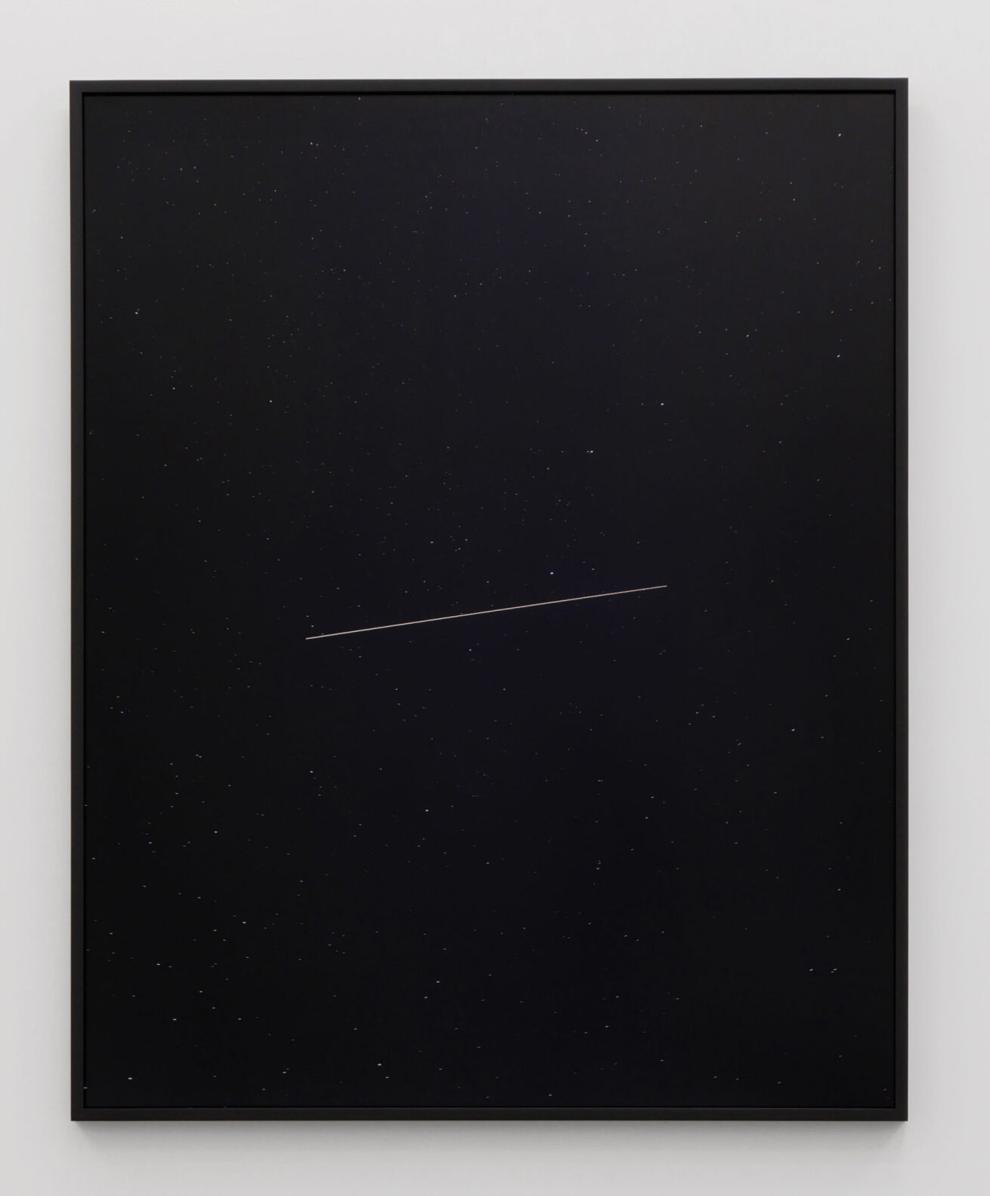 In person, Paglen is almost soft-spoken. He cracks jokes. And he's not beyond using humor to make art — and using humor to embarrass authority figures who don't understand the extent of government surveillance or their participation in it. Several years ago, Paglen drove around the outskirts of Frankfurt looking for an Internet Exchange Point, which is the physical space where "all the networks of the internet have to come together and talk to all the other networks," Paglen says. These points exist all over the world, and the one near Frankfurt is close to an NSA base. People aren't supposed to photograph or film near these facilities. Paglen did anyway.
"When you do this sort of thing, the cops show up," Paglen told the Minnesota Street Project audience. "Every single day, I'd show up and be photographing — and of course there are signs that said, 'No Photographs' — and I ignored them. And then these rent-a-cops from these secret bases out of the middle of the forest say, 'You can't take pictures.' And you say, 'Well, you're a rent-a-cop – why don't you call a real cop?' And they call the real cops. And the real cops come and they're Germans, and because they're Germans they don't just beat you up. They say, 'Why are you taking pictures?' And I say, "Because I want to. This is a secret base.' And they say, 'Well, we don't think you can take pictures.' And I say, 'Well, why not?' And they say, 'Well, there's a sign that says you can't take pictures.'
"And I say, 'Let's look at this sign together.' And this sign refers to something called 'USC 50.' And I say, 'That's an American law, right? And American laws don't apply in Germany, do they?' And they say, 'Nope, they sure don't. And we hate these Americans. They're always trying to do crap. And push us around. And their guys get into fights.' We start having a discussion. And they call the MPs, who have to drive from an hour away. And they show up. It's some 18-year-old kid from Kentucky who says, 'You can't take photographs.' We go back and forth. And I'm translating between the American MPs and the German cops about what to do about me, because the German cops don't speak English and the American cops don't speak German. This was taking four or five hours every day. So I decided, 'We're going to have to teach these guys a lesson.' " 
Paglen went to a major Frankfurt museum, the Frankfurter Kunstverein, and created a 2015 photo contest that invited every photographer in the country to take images of NSA and German intelligence bases. More than 100 people did. The museum exhibited contest photos at the same time it exhibited Paglen's work. The winning images were also published in a German paper. They held an awards ceremony, too.
"It was a lot of fun," Paglen said at his lecture. "Doing photography is not just making images. It's exercising your right to take photographs."
When the MacArthur Foundation announced Paglen as one of its class of 2017 "genius grant" winners, it said Paglen "is creating a diverse body of work to equip viewers with the knowledge to hold power accountable and ensure the ideals of democracy are upheld."
MacArthur fellows get $625,000 over five years. Paglen says it hasn't changed his daily existence as dramatically as people might think.
"It's pretty much the same," he says of his life, "except that old teachers from elementary school send you nice emails. I'm going to do what I'm going to do regardless. But it's nice to get that recognition."
Paglen lives and works in Berlin these days, but he's often traveling with all the projects he's doing. Besides Orbital Reflector, the Smithsonian American Art Museum is devoting a mid-career retrospective to Paglen this summer, "Trevor Paglen: Sites Unseen." He's often linked in the public imagination with Edward Snowden and filmmaker Laura Poitras, whose 2014 documentary about Snowden, Citizenfour, featured Paglen's imagery of surveillance sites. At Poitras' behest, Paglen read through the previously classified information that Snowden leaked in 2013.
Wherever he goes, Paglen cautions that government surveillance is not limited to suspected terrorists. Anyone who uses mobile devices and the internet is being potentially tracked by the government. And, Paglen tells SF Weekly, "that's everybody. That's what a lot of people don't get. [They'll say], 'Oh, you must be on the list.' But, no — everyone is on the list now."
Surveillance "is not just on the State side," he adds. "It's very much on the corporate side, too. Mass surveillance has become the business model of the internet."
In other words, Paglen's projects are an artful perspective on what activists have been warning about for years. In 2013, Snowden risked everything to leak classified information that detailed the surveillance reach of the National Security Agency. Snowden fled to Russia to avoid prosecution but he still speaks to audiences around the world through digital links. Paglen studies those links, studies the internet, studies artificial intelligence, and studies the work of NSA operatives. He tracks the trackers. They aren't expecting to be seen in the way that Paglen sees them. We don't see their faces. We don't see their names. Just their work. It might seem innocuous: blurs in the sky, cables underwater. But they aren't innocuous. Paglen is there to remind us of that fact.
"Impossible Objects," through May 3 at Altman Siegel, 1150 25th St. Free; 415-576-9300 or altmansiegel.com.