Thirteen is an unlucky number.
Or is it? In Italy, for instance, the number 17 is considered inauspicious and the idiomatic expression "fare tredici," which literally translates as "to make 13," means something like "hit the jackpot." Well, for its 13th biannual themed menu, inestimable cocktail bar Trick Doghas put out Lucky Number 13, a collaboration with the Lower Haight's Idle Hand Tattoo. 
Replacing the six-month-old Joy of Cocktails series of drinks created in cooperation with various S.F. chefs, Lucky Number 13 debuted today at 3 p.m. It includes some 13 drinks tied to the art of pigmented body modification, all using the form of a flash sheet — those pages full of image templates you thumb through while waiting to go under the needle. Poster artist Lil Tuffy ("Death or Glory") put together a limited-edition archival poster for the menu, proceeds from which benefit the San Francisco Rock Project, which helps kids under 18 acquire the confidence of a legit rock star. (All Trick Dog menus have had a philanthropic dimension, and parent company BVHospitality and The Bon Vivants have cumulatively given away more than half a million dollars to various nonprofits.)
Trick Dog Tattoo from Trick Dog Bar on Vimeo.Trick Dog owners Josh Harris and Morgan Schick, along with their staff, had been mulling over this concept for a long time. Some of Lucky Number 13's new drinks include the Rose of No Man's Land (Havana Club Anejo Blanco and El Dorado three-year rums, grapefruit-infused Dolin Blanc vermouth, lime liqueur, and cherry bark bitters, served up), Pharaoh's Horses (The Botanist gin, Amaro Braulio, Luxardo Amaro Abano, Leopold Brothers' Maraschino, and sesame vanilla vermouth, served up), and Dragon's Breath (Toki whisky, Singani63, Ancho Verde chile liqueur, cucumber, watermelon, anise, lemon, and Faction IPA, served on crushed ice).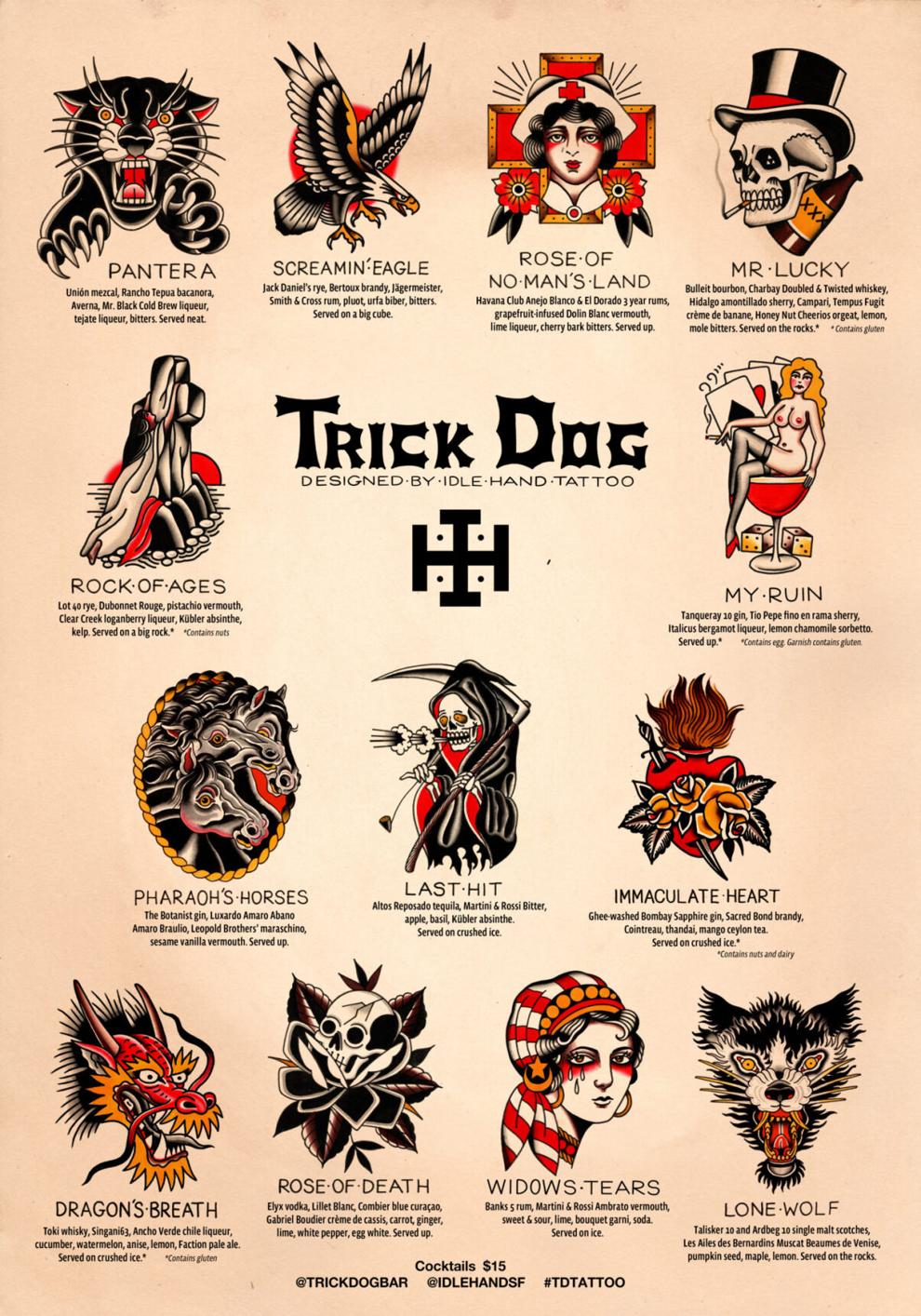 Notably, this menu includes extras like nonalcoholic cocktails, highballs, wine, beer, shots, and low-proof cocktails, such as the signature Trick Dog Aperitif (made with Hidalgo amontillado sherry, Gran Classico bitter, and Carpano Antica sweet vermouth). Get it while it lasts — some time in early July.
Meanwhile, the building that houses Lucky 13 sold more than a year ago, and as of September 2017, the bar's ownership expected at least a year before its luck eventually runs out.
Trick Dog, 3010 20th St., 415-471-2999 or trickdogbarsf.com