"I want to make everybody happy," says Hannah Hoffman, aka the Doughnut Dolly. "I want to so bad. I want everyone in San Francisco to have sugar on their lips."
But like generating electricity by cold fusion or preventing self-driving cars from running red lights, it's easier said than done. Two months into the operation of Doughnut Dolly's third location — a kiosk in The Market, the food hall on the ground floor of Market Square, the building which houses Twitter headquarters — Hoffman has fought more than her share of battles in this quest bring joy to the people.
Doughnuts make almost everyone happy, and additionally, Doughnut Dolly's approach — filling them to order, by hand, on aesthetically pleasing German machines — satisfies conscious Bay Area types who like to see their food made in front of them. But apparently, not having a doughnut with chocolate-hazelnut filling is the hill to die on for a certain type of cranky individual. Nutella, however, is off the table owing to its ecological costs.
"It contains palm oil, and I cannot support the extermination of orangutans," Hoffman says over coffee. "I'm happy to have a chocolate hazelnut, but it costs a lot of money and I don't think people will pay for that. Palm oil is so cheap."
"Also, it clogs your arteries and it's trans fats, and we don't want that," she adds. "I now, I'm just kind of a jerk about it."
While the European version of Nutella doesn't use palm oil, Hoffman can't get it from her distributors. So until someone offers to jet to the Old World and back with an extra suitcase full of ethically produced spread, we'll all just have to do without.
However, it's not as if what the Doughnut Dolly doesn't serve matters more than what it does, like bourbon cream, Mexican chocolate, nectarine jam, buttered rum, salted caramel, and the daily standby, Naughty Cream (a mixture of crème fraiche and vanilla). Running one shop each in Oakland, Berkeley, and now San Francisco keeps Hoffman out of the kitchen and adhering to normal business than she would prefer, but she typically wakes up at 3:30 a.m., half an hour before her bakers knock off for the day. And more often than not, Doughnut Dolly sells out of its yeasted doughnuts.
It's a lot of elbow grease, and the third location was months behind schedule when it finally opened on Nov. 7, owing in part to a construction crew that walked off the job upon realizing they'd be receiving instructions from a woman, which caused a three-week delay. Later, Hoffman's hopes of selling savory creations like a pulled-pork doughnut were dashed when inspectors told her she would need to spend more than $20,000 to install a drop-ceiling and rejigger a high-pressure fire control valve — for a crock pot in a 183-square-foot kiosk. She still hasn't been able to get a working phone line. And she had to call on some people in high places just to keep the process in motion.
"The mayor's office had to intervene, and it's just doughnuts," Hoffman says. "You would think I was selling a controlled substance."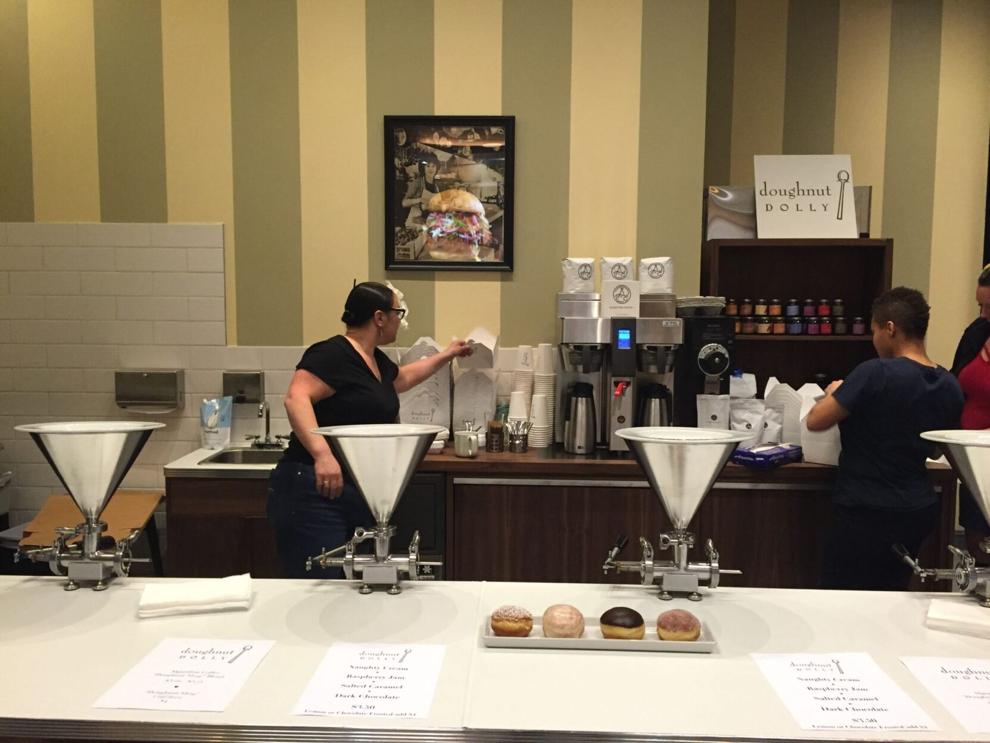 Schedule I doughnuts or not, she's looking to new flavors all the same. Having done a bread pudding in the past, Hoffman envisions updates like a tiramisu or "some sort of trifle."
"As we get into the spring and summer, berries and more fruits start coming out. We'll do a little parfait cup that has real fruit and Naughty Cream — and you can choose a gluten-free cookie or a regular cookie."
That will be a first. As Doughnut Dolly's Berkeley production facility contains between 500 and 1,000 pounds of flour at any time, producing a truly gluten-free doughnut is simply not possible. Noting that the ongoing vanilla shortage has forced her to take precautionary steps to guarantee a stable supply of Naughty Cream, she's looking to do more passionfruit and lemon curds. But Hoffman is wary of growing too experimental.
"You can't get too modern with a doughnut," she says. "There's also something really comforting about being able to just it being predictable without being old or tired. When I started out, it was just granulated sugar, and whoa, I expanded to powdered sugar," which meant the ability to do glazed doughnuts.
People sometimes wonder why it takes so long to roll out something new that, in retrospect, can feel obvious. Hoffman cites staffing, timing, demand, and fear of the unknown.
"Do I have the stomach to do an experiment? I'm a business owner, and I'm terrified all the time," she says. "That's the truth. That's why we serve with such love and passion. The one thing is that you walk away with an experience that wasn't pretentious. It brought you a memory of your past, or some comfort, or some joy."
In the meantime, Mid-Market workers and residents have discovered her "affordable indulgences," and she's glad for it — particularly that her customer base extends beyond the techies upstairs.
"I'm glad I'm able to reach people outside the building," she says. "Being an owner of a boutique pastry company that makes this one thing — and I think we do it really well. We want people to find us and love it and crave it and talk about it and come and get it."
Getting to that point has brought this anthropology major far from where this she started — or, rather, straight back. Raised by a mother who was a pastry chef at Chez Panisse for 18 years, starting when the restaurant opened in 1971, Hoffman has food service in the blood. (A photo above the kiosk that was taken in the mid-'70s shows a baby Hannah and her mom in the kitchen, only a few years before Hoffman graduated to washing lettuce.) And the proprietor of Chez Panisse is a Doughnut Dolly fan.
"Alice [Waters] does like my doughnuts," Hoffman says. "It feels amazing — and, lucky for her, I deliver. I surprise the Chez Panisse crew with doughnuts every once in awhile. Her favorite's the nectarine, just saying."
While she's still consolidating this newest location, the ultimate plan is to have at least five shops in the Bay Area. Operating a business in three cities must have given her insight into every possible bureaucratic hurdle the region can throw at her, right?
Wrong.
"I feel like I know less than I did before," Hoffman says. "But I feel like I have bigger shoulder pads and a thicker helmet and more secure goggles."
Doughnut Dolly
inside the Market, 1355 Market St., 415-901-3484
482B 49th St., Oakland, 510-338-6738
1313 Ninth St., Berkeley, 510-225-9460