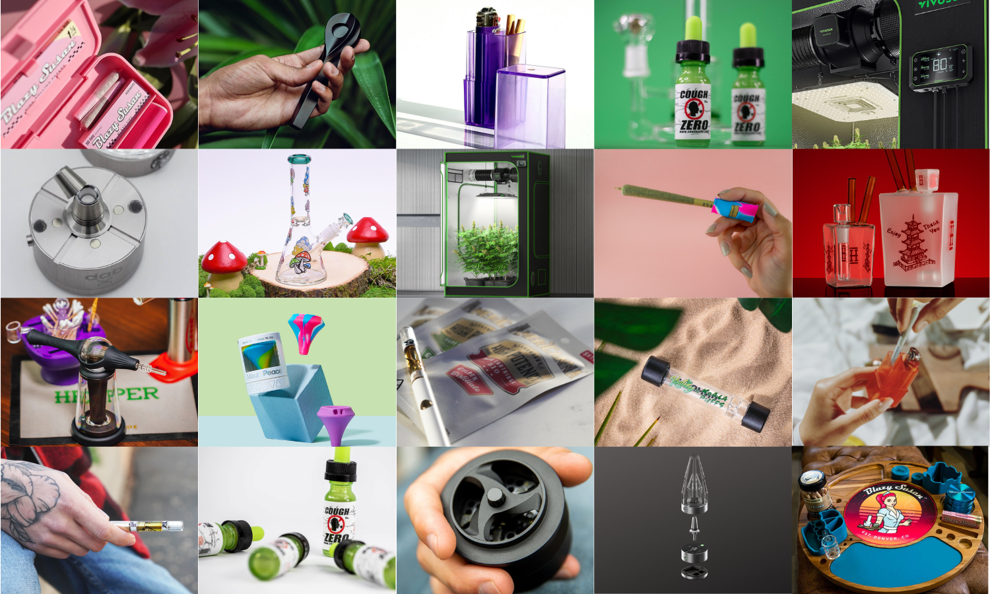 While Cannabis Culture makes its way into the accepted mainstream, the producers of related products and accessories are trailblazing their way into our everyday lives. Today's paraphernalia is made to be seen and appreciated. No more crushed aluminum can pipes! Premium materials and cutting-edge technology and equipment are now used in everything from rolling papers to home-grow systems. And it's not about just functionality, consumers want products that reflect their lifestyle and personality. Here are the 10 cannabis products and accessories that you need to know about for 2023.
#1 HEMPER – SUBSCRIPTION BOX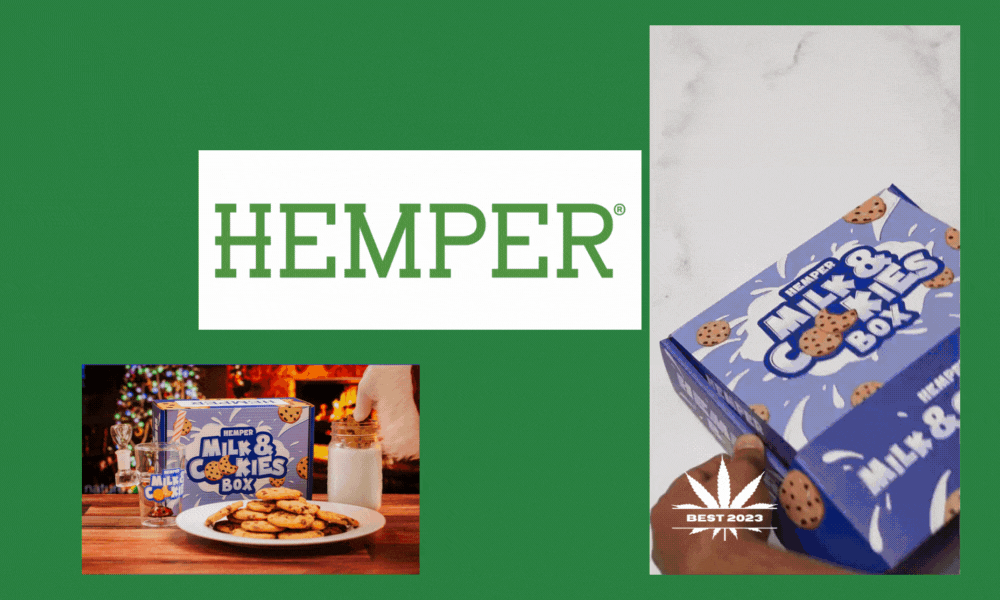 We can't think of a single thing as deserving of consistent replenishment as your cannabis accoutrement. That's what this list is all about. Enter Hemper with their epic subscription boxes. The innovative online headshop, known for its unmatched selection of glass, works tirelessly to bring customers what's best and what's next when it comes to cannabis accessories. You should never settle for boring, and the glassmakers at Hemper take form and function to the next level with curated bongs and rigs designed in-house. Each piece tells a story, from the whimsical to the nostalgic to the just plain cool. Sometimes taking a hit even enhances the visual effect, sending swirling plumes of smoke around the piece and making it a dynamic work of art. When it comes to socializing with your friends or really getting the party started, there is no better way to put a smile on everyone's face than with a Hemper smoker box. Opening a Hemper Box, which contains a mixture of both glass and paper products, means you're ready for whatever the sesh has in store.
#2 MOOSE LABS – MOUTHPIECE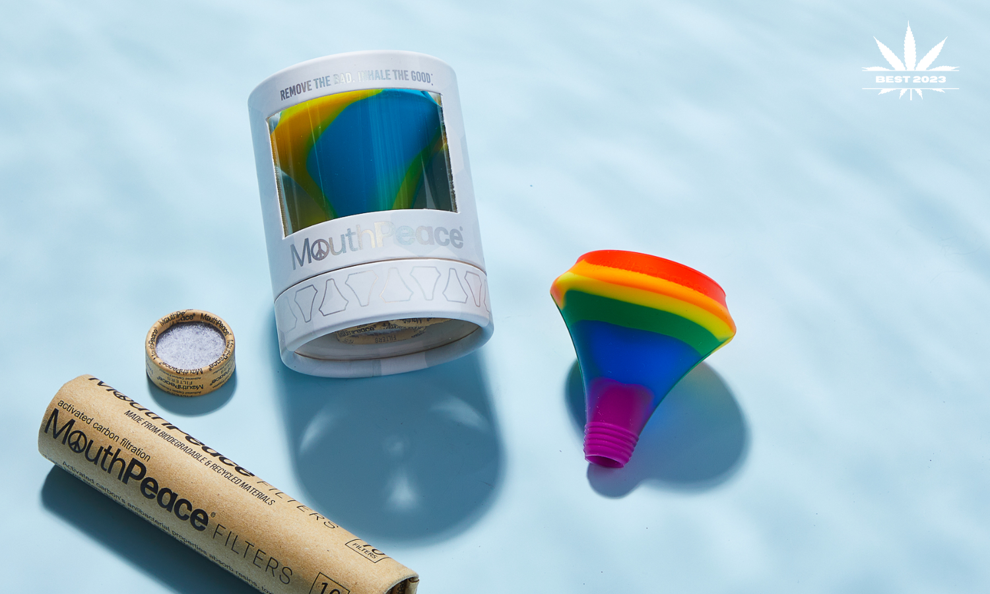 I'll let my dog lick my face, but I don't want your cooties! Did you know the average cannabis pipe carries 90% more bacteria than the average dumpster? Gross! But the camaraderie of the 'puff, puff, pass' tradition does not need to fade into folklore – thanks to Moose Labs' MouthPeace. Originally designed in 2014, the silicone mouthpiece that keeps your mouth cooties to yourself has evolved to include 2 designs, and filters for each. The Original MouthPeace is best for smoking out of a traditional glass pipe or bong, and the MouthPeace MINI is designed for social smokers who prefer joints, blunts, or vapes. Germs aside, no one wants a bunch of tar and other icky stuff with their high. Lung health is a priority for Moose Labs, which is why they spent 16 months mastering the art of cannabis filtration before introducing those proprietary MouthPeace Filters. The filters use a triple-layer filtration system to essentially clean the inhaled smoke, removing resin, contaminants, and tar from every puff while allowing the THC/CBD to pass through. Share joints, not germs with a MouthPeace. 
#3 HØJ – GRINDER & PIPE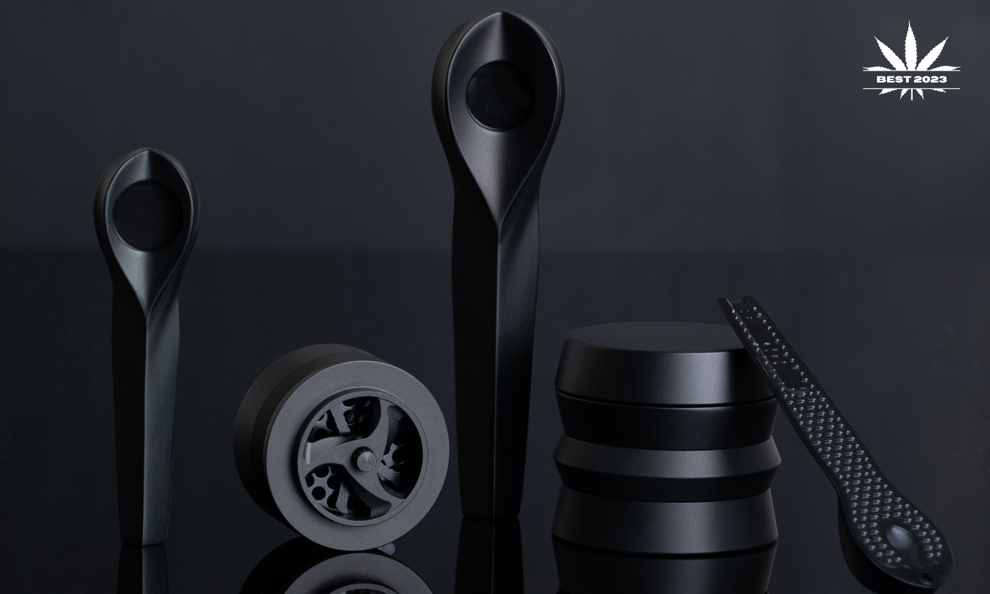 Some duos just work. You can't imagine Ron without Hermione, Silas without Jamal, or Bert without Ernie. That's the way we feel about the KLIP grinder and KØL 2.0 pipe from herb accessory company, HØJ (pronounced "hoy" – it's Danish for high. Wink, wink). Learning how these products work is like looking up the magician's sleeve. The KLIP, which is actually more of a 'slicer', is unlike any traditional grinder you've ever seen; it doesn't crush the herb. Instead, custom-built dual-blades finely slice through it, creating a much fluffier consistency that burns more evenly. The blades also protect the crystals' integrity, resulting in a more potent experience with the same exact herb. Opposing magnets suspend the central pin in mid-air, dramatically reducing its contact with the sides through levitation (what sorcery is this?!). This enables an almost frictionless turn. Forget grinders that catch, clog and break – KLIP literally spins. The KØL2.0 pipe has a pioneering patent micro-channel design that effortlessly strips heat from the herb mechanically, requiring no water at all (again with the wizardry!). Combined with titanium-coated filters, this results in a significantly smoother experience, meaning less coughing at the time and in the long term. Cool KØL right? Their slogan is "Welcome to the new high." We say, "Welcome to the new, magical HØJ, fellow Muggles."
#4 AMERICANNA – VAPE CART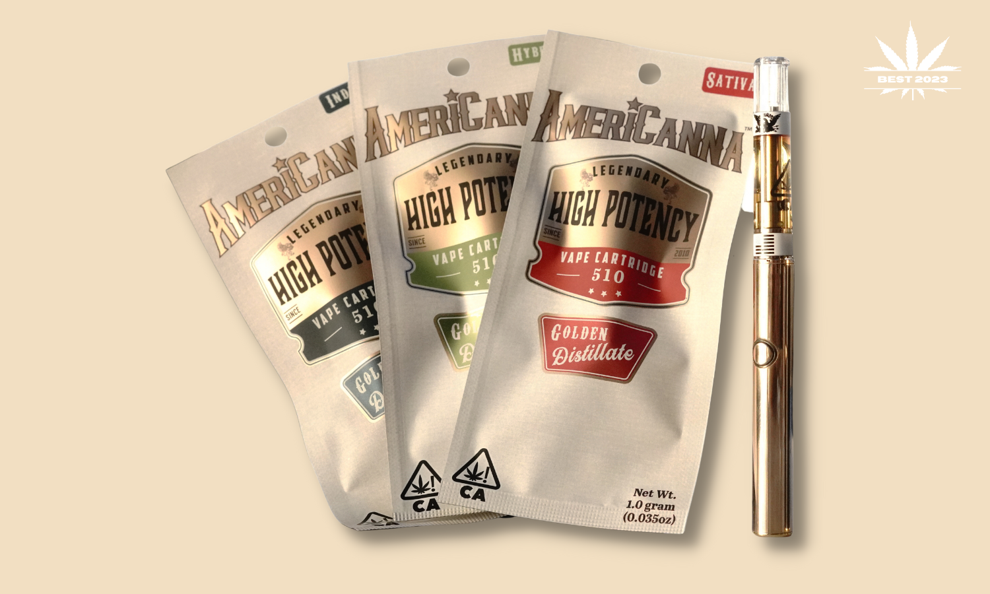 If you don't have a friend that goes on and on about "terps," then you might be that friend who goes on and on about "terps." Americanna High Potency Distillate Cartridges have been formulated using exclusive full-spectrum terpene profiles developed in-house, with both cannabis-derived and hand-selected botanically-derived terpenes (over 35 terps, in case you're counting). Add that to over 90 cannabinoids with special properties such as CBD, CBN, CBC, and CBG, and you have a product that consistently tests at 90-97% pure cannabinoids by volume. Those additional compounds contain immensely beneficial medicinal properties known to treat symptoms such as stress, anxiety, inflammation, pain, sleep disorders, and appetite loss. Oh yeah, and the "High Potency" might also have something to do with the 93% THC – this blend is tailored to provide the strongest experience. In this case, high potency also means high quality. Americanna is dedicated to bringing affordable, high-quality, consistent, and safe products to those who can't afford what they consider to be a simple commodity.
#5 VIVOSUN –SMART GROW SYSTEM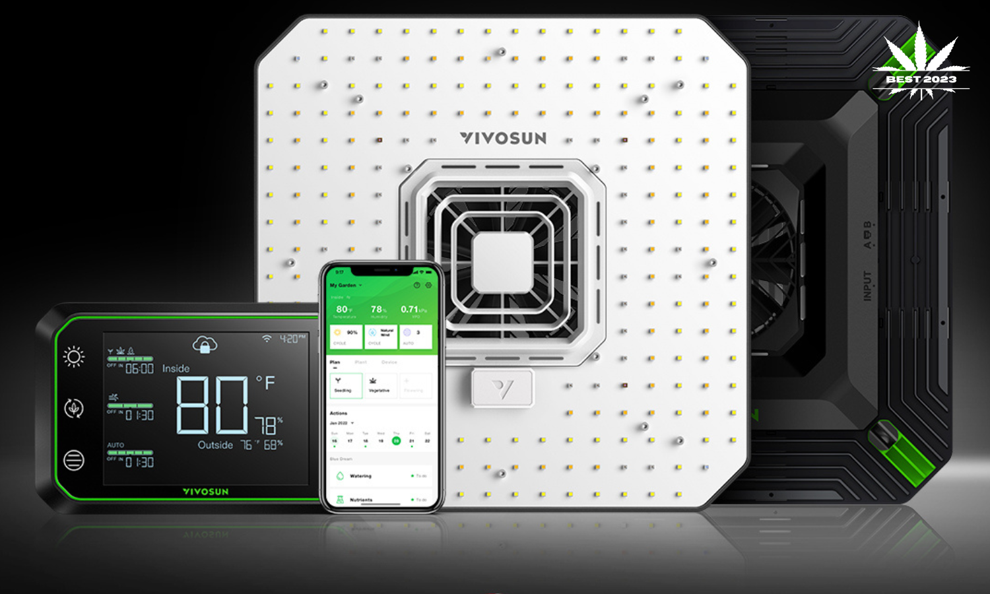 There's nothing better than a homegrown high. And while a coffee can and fluorescent light in your closet might kind of work, Vivosun has a better way. The company was founded over ten years ago in Los Angeles and made its name innovating and producing the best grow lights on the market. Now they are the leading online retailer of indoor gardening products because they know what it takes to be a successful grower. Their products are designed to ensure that everyone can grow like a professional, regardless of experience. Vivosun has simplified the science of growing, and their smart products create the perfect environment for any plant. So go ahead and explore gardening – they say it's relaxing…
#6 HAUTEBOX – STASH BOX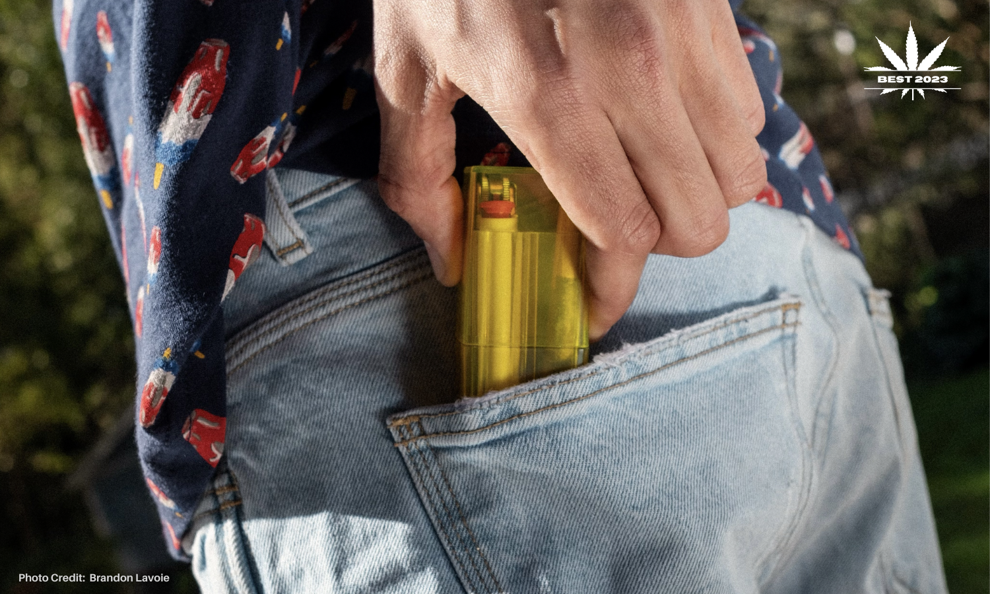 Hotbox checklist: (1) space, (2) friends, (3) 3-4 hours of free time, (4) prep, (5) snacks, (6) clean-up, (7) deodorize. Hautebox checklist: (1) Hautebox. Hautebox is a cannabis-centric lifestyle brand that focuses on discreet, chic ways to carry cannabis. And while this little stash box is made to be inconspicuous, the designer is a professional stylist, so you are gonna want to show it off. Charlotte Welch has been dressing and shaping the style of high-profile professionals, commercial clients, and the halls of Fashion week for years. The need for an on-the-go cannabis companion around elite clientele, fabrics, and fashion led her to design and create her first product, Hautebox. The Hautebox is neatly compartmentalized to keep your pre-rolls separate from your spark, with a custom compartment for your Bic lighter. (Don't worry lighter snobs, the Large Hautebox will hold your Zippo.) Maybe Ms. Welch was a Boy Scout in a former life because every Hautebox is water-proof, sink-proof (Is that a term? OK, it floats), smell-proof, and burn-proof. You can put a fully lit pre-roll inside to be safely snuffed out and ready for later. Hautebox encourages us to be "discreetly rebellious, but always be prepared."
#7 DABX – VAPE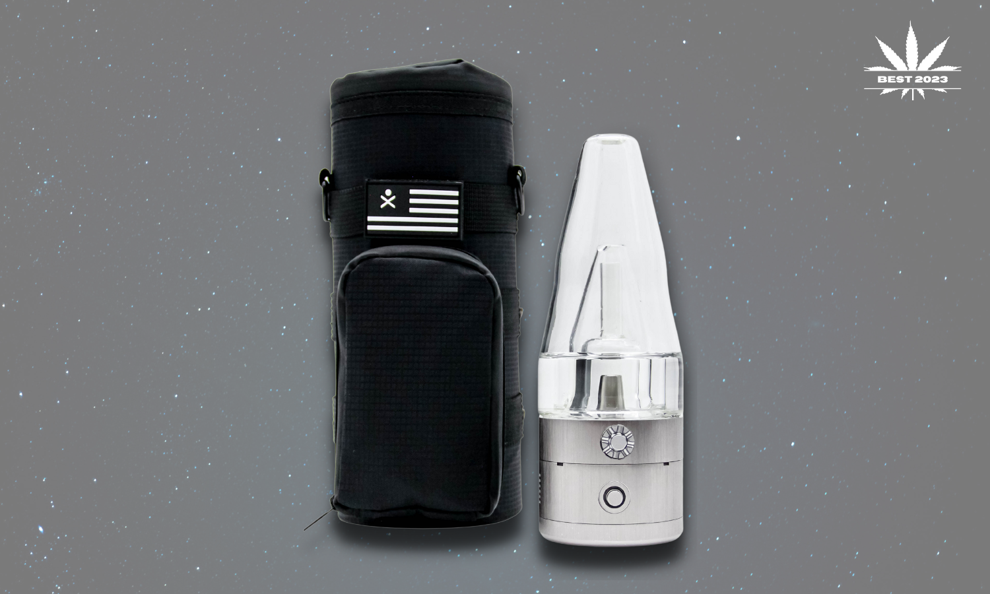 Sparking up in space is probably not a good idea – flame and concentrated oxygen and all that. But the DabX Go and its case look like they belong in the Space Program. This  E-rig has a few unique components of its design that set it miles ahead of any other dabbing device on the planet. At its core is a revolutionary new vertical airpath that pulls freshly created vapor up from the atomizer and directly into a full-sized glass water filtration system – allowing the pure flavor of the dab to come through and eliminating reclaim which, in addition to corrupting taste, wastes concentrate and is the cause of cleaning headaches. Powered by dual 1100mah li-ion power cells, the Go is capable of putting out close to 100 dabs on a full charge and has 4 selectable heating profiles calibrated for different types of concentrate and temperature preferences. This preserves your terpenes and gives you a perfect-tasting, perfectly heated dab every time. If you're new to dabbing, the Go is the easiest way to get started. And if you're a hardcore dabber, it will literally change your life.
#8 COUGH ZERO – DROPS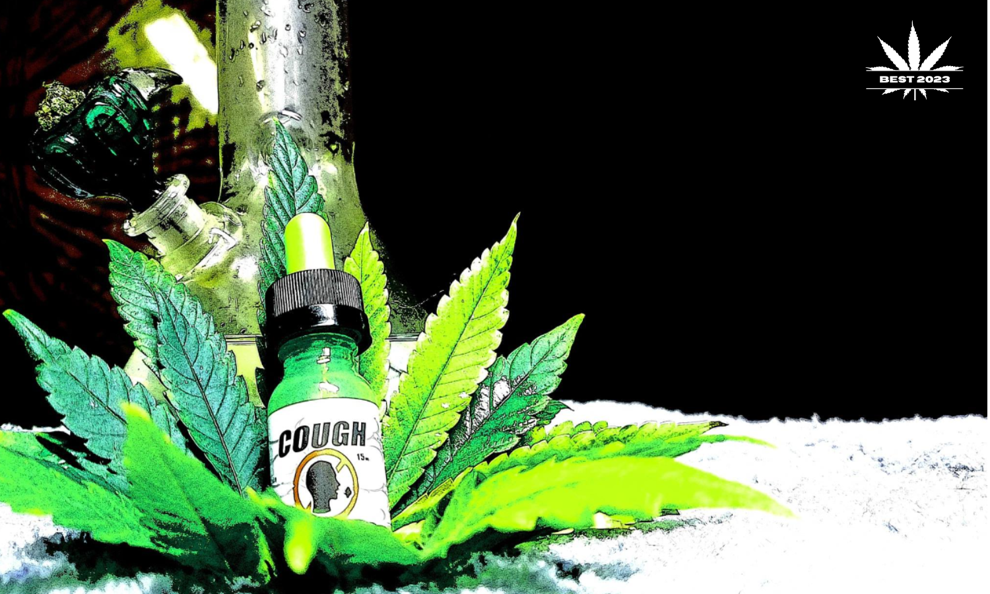 "It's just a weed cough! I promise!!" How many times have we heard this disclaimer over the last 2 years? With Cough Zero you can't use that as an excuse anymore. These drops mitigate the irritation and inflammation from smoke inhalation by changing the properties of the smoke itself with some science-y stuff. Just apply drops along the path of the smoke: mix with dabs; add to your pipe water; add to a cart tank; drop on flower in a bowl, cone, rolling paper or blunt wrap; or add 3 drops to your crutch or filter. Cough Zero is entirely non-toxic, and safe. 
#9 BLAZY SUSAN – ROLLING TRAY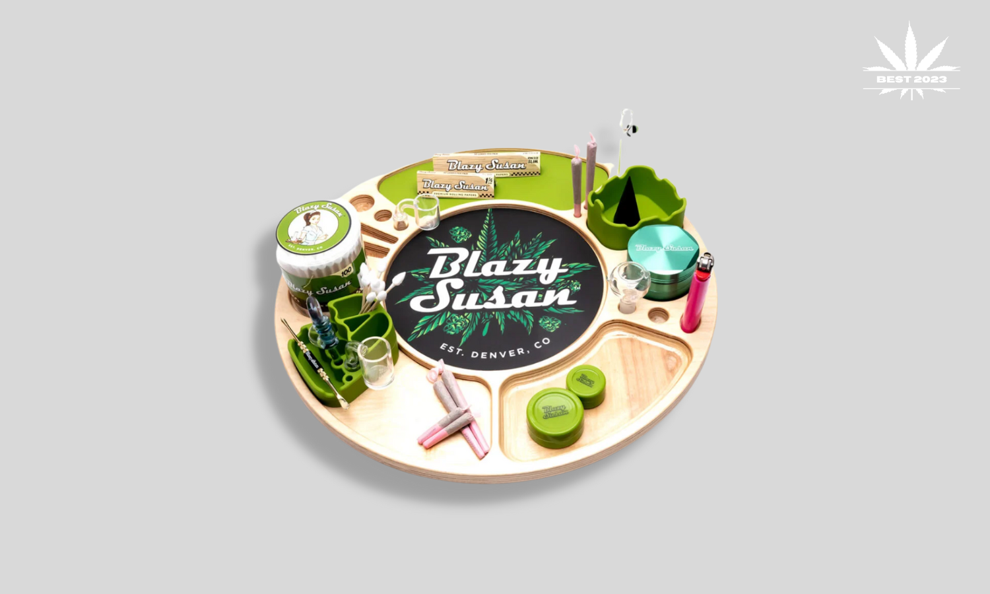 Blazy Susan wants to Marie Kondo your smoke sesh. Before you flashback to that time you thought piling everything from your closet onto your bed at midnight was a good idea, we promise this item will definitely "spark" joy! The Blazy Susan Spinning Rolling Tray features an innovative design with small compartments for all different types of smoking accessories and supplies. This rotating tray is a natural place for your friends (and family, if they're down) to congregate and toke up. Hand-machined & sanded from Birch or Walnut wood, the Blazy Builds team treats every tray with love and care. Each Blazy Susan is unique in its markings and patterns; clear-coated for longevity and easy rolling. You can spark even more joy and customize your Blazy with colorful silicone inserts including a dab station, deluxe ashtray/bowl cleaner, and dab pad. It's all down to how you want to tidy up. 
#10 KOALA PUFFS – KOALITY BOXES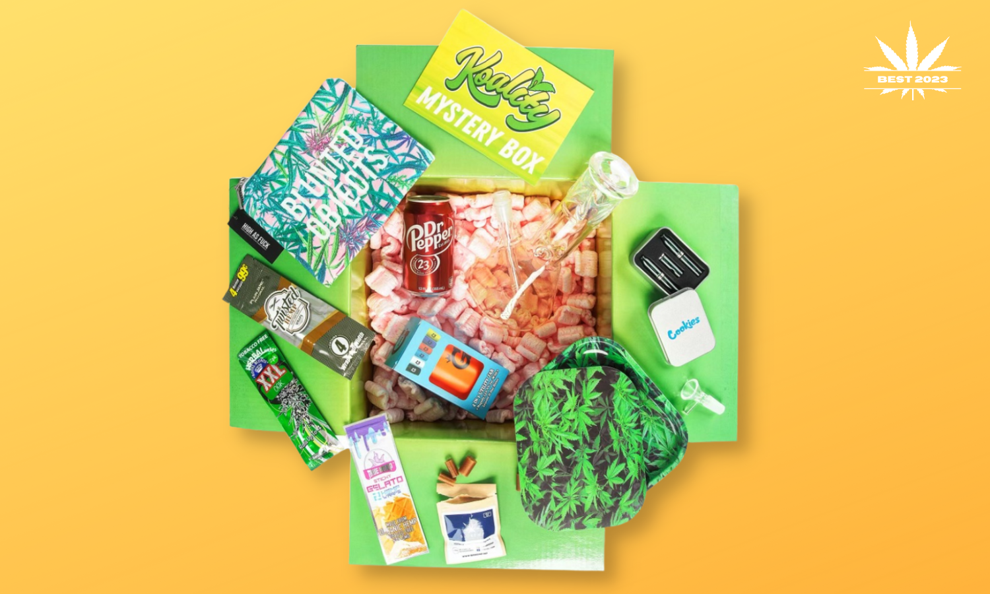 Who doesn't love a Choose Your Own Adventure story?! Deciding what you will do, but not knowing exactly what will happen has made many a pre-teen giddy with anticipation. What if we told you that you could recapture that tiny piece of your youth… and get high?!? You can! Koala Puffs has created their version of the choose your own adventure with Koality Boxes. They have 4 types: a Monthly Koality Box; a Heady Glass Mystery Box – that features a different glass artist for each release; the Koality Mystery Box; and the Build Your Own Koality Box. All the boxes are a surprise, but with the Koality Mystery Box and the Build Your Own Koality Box, you get to pick the types of items for your cannabis adventure. The Mystery Box gives you the choice of 420 or 710, but the rest is up to Koala Puffs. If you choose the Build Your Own Box, you pick 420 or 710 for the main piece, and then specify types of items for the rest of the box – so you know a little more about your upcoming adventure. Just like reading ahead a little before making the choice for your character (not that we would have ever done that).
Find more of the best of everything in California at Best of LA